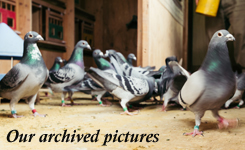 <!iframe width="245" height="138" src="https://www.youtube.com/embed/0Bm-POIhvg0" frameborder="0" allow="autoplay; encrypted-media" allowfullscreen> <!iframe width="245" height="138" src="https://www.youtube.com/embed/Jl_pZA_qS6o" frameborder="0" allow="autoplay; encrypted-media" allowfullscreen> <!iframe width="245" height="138" src="https://www.youtube.com/embed/H3j6T-zUdSE" frameborder="2" allow="autoplay; encrypted-media" allowfullscreen> <!a href="http://www.gc50000.com/" target="_blank"> <!img height="150" src="images/gold coast.jpg" style="margin: 12px 6px; border-style: solid; border-width: 2px;" width="245" />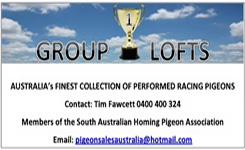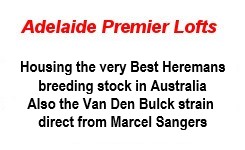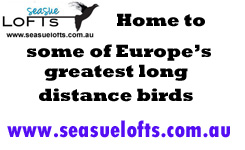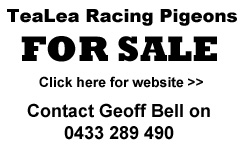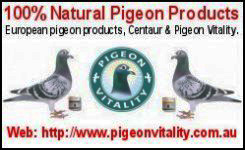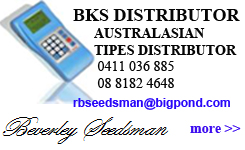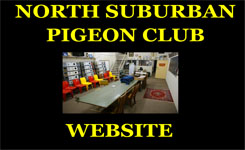 SAHPA NEWS

Visit ANRPB by
clicking on icon at left
FREE
to list any pigeon or loft related item
TRAP FOR SALE

- SA Private Pigeon Sales >>>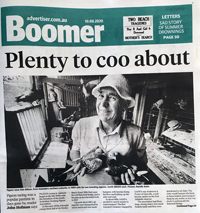 CDRPC "ring race" current standing. Go to CLUB PAGES link at left.

Here is the Penola map >>>

Article from "Boomer" in today's Advertiser. More >>>

SAHPA Race Program 2020 SE line - unless border opens then will change back.
Aug 1st
Penola 1 330 km -
Aug 8th
Penola 2 330 km -
Aug 22nd
Mt Gambier SAD 380 km -
Aug 22nd
Mt Gambier 5 bird Special -
Sep 5th
Mt Gambier 380 km -
Sept 12th
Allendale
- Sept 26th
Allendale 395 km -
Oct 3rd
Allendale 395 km




2020 RACE CARD

TOSSING

Ford

TOSSING

Mazda



JOHN HOFMAN has supplied us with some writings he has accumulated over the years:

- PIGEON RACING in Mid 60s
>>>
- HISTORY OF Ponderosa added to
archives: >>>
- EARLY DAYS OF PIGEON RACING in Port Adelaide -
>>>
- HERE IS THE complete "Moments To Remember" -
>>>
- ALSO ADDED to "Archives"
is EUROPEAN STRAINS >>>


CALENDAR OF EVENTS >>>

NEW
- This file
contains all the Assoc. results for 2019.
Search for your results >>>
(use control / f to get the "find" box). Search on a name or a ring number - just the number i.e. 09090 is enough.


A BRIEF INTRODUCTION
for interested people and new flyers >>>
SEARCH THE SAHPA >>>

WELLINGTON
ONE LOFT RACE.
Visit website >>>


ARE YOU A NEW FLYER?
Find a club in your area first >>>
Country clubs included.


SEARCH ALL SAHPA RESULTS! 2007, 08, 09, 10, 11, 12, 2013. Search ring number, owner, anything! Click on the Results button at left and then under the racepoints map on that page.