SAHPA NEWS

The Bill Walford 10,000 loft auction will be held at the SAHPA hall on Friday 29th July starting at 7pm. All welcome. The race is from Lyndhurst on Saturday the 30th July.
Good luck to all of the 133 entries.
BILL WALFORD prize money >>>
BILL WALFORD pigeon numbers >>>
DRAFT 2017 race program >>>
TOOWOOMBA FED catalog. Go to "Catalogs" at left.
BROKEN HILL RESULTS UPDATED on the CLUBS page.
THE CHAMPION CLUB CHALLENGE IS ON!
Clubs wishing to compete in this One-Day Show at the 2016 Adelaide Royal, (Sunday 11th September) need to contact Brian Mahomet on Mobile: 0432 062 176 ASAP (prior to Thursday 30th June, 2016). This competition is for Club Teams of 6 pigeons (2 old cocks, 2 old Hens and 2 young birds). The club gaining the highest overall point-score will be awarded the SAHPA Trophy.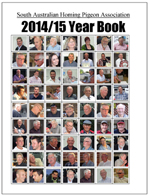 THE SAHPA YEARBOOK for 2014/15 has been distributed to the South Australian members and we have a limited number of extra copies for sale. The price is $10 per copy which includes the postage anywhere in Australia. This publication would be particularly useful to new flyers with a lot of tips from these top flyers on feeding, keeping, medications and breeding. To purchase please complete this form >>>
Scan from the breeding book of the
famous Lot 60 (SA78 15393) >>>
SEARCH ALL SAHPA RESULTS! 2007, 08, 09, 10, 11, 12, 2013. Search ring number, owner, anything! Click on the Results button at left and then under the racepoints map on that page.