SAHPA NEWS
'Protein compass' may explain how pigeons find their way home more >>>

LDC Points table available under "Points/Programs" at left.

PARA DISTRICTS SQUEAKER SALE more>>>

KEITH ANNUAL PRESENTATION & SQUEAKER SALE more >>>

HORSHAM Homing Pigeon Club. Saturday 12th December. Presentation Night at the Horsham Greyhound Cafeteria, 6 pm start $25 a head. BYO drinks. Sunday 13th December, 1st Breeders Plate (11 am). Sunday 10th January 2nd Breeders Plate (11 am). You can put in eight birds per breeder over the two sales. Saturday 23rd January. Squeaker Sale (1 pm start).

BAROSSA VALLEY SQUEAKER SALE. December 6, 2015 more >>>

WELLINGTON ONE LOFT RACE. Visit website >>> Email: wtbdrpc@outlook.com


SPECIAL MEETING (see Forum at bottom of page)

Here is a brochure on the proposed truck >>>
Optional extras that will be included: Hino 500 Series FD X1124 Long Air Proshift 6
Reversing Cameras plus 2 additional cameras that can be mounted in the Race Units
Chassis Extension
Levelling system – hydraulic
Geraldy website >>>
Brochure 1 >>>
Brochure 2 >>>
Brochure 3 >>>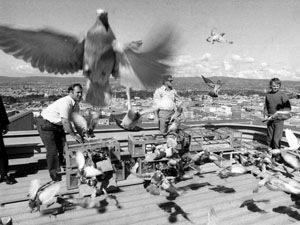 The picture at left has Allen Goodger and Bill Walford plus an unknown flyer releasing pigeons from a roof-top in Adelaide. Thanks to Mrs Goodger who has given this photo and other historical items to the SAHPA.

Scan from the breeding book of the famous Lot 60 (SA78 15393) >>>


FUTURE DIRECTIONS PRESENTATION DOCUMENTS
The Future Directions presentation documents have now been released for publication on our website. You can view it either as a power point or a pdf format.
Here is the pdf formatted document >>>
This document has also been archived on the OFFICIALS page.
Here is the document in a power point format >>>
SA LONG DISTANCE CLUB
have started on building their own unit to fit on the back of the Holden Colorado they bought last year.
The 2 aluminium units can be lifted on and off the tray top and will carry up to 600 birds. Perry Burton with help from Brian Donovan and Dennis Russell has been building the unit for our club. He will also be building a canopy which will sit over the units in the pictures. We commend the work being done by Perry and the team of helpers. Please click on this hyperlink to see a Youtube video of the unit in progress.
http://youtu.be/bYAe_1LVC0c
See pictures of the unit by clicking on the picture in the top right-hand corner of the home page.



SEARCH ALL SAHPA RESULTS! 2007, 08, 09, 10, 11, 12, 2013.
Search ring number, owner, anything!
Click on the Results button at left and then under the racepoints map on that page.