SAHPA NEWS

ANRPB on-line fundraiser to be held on
www.pigeonsales.com.au. More information here >>>
ANDREW MUIRHEAD catalog now available. Please go to "Catalogs" at left.
NORTHERN GROUP STOCK BIRD SALE. Here are the pictures >>> Pedigrees now available on the CLUBS page (button at left). Birds from Stacey, Watson, Squire, Tunbridge, Agar, Lizoguboff, Jones, Shepherdson, Wallace, Thame, Nisbet, Blanchette, Mundy, Yeoell, Hughes, Hlebnikoff. Sale on now. Go to Group1 lofts. Advert at right.
THE CHAMPION CLUB CHALLENGE IS ON!
Clubs wishing to compete in this One-Day Show at the 2016 Adelaide Royal, (Sunday 11th September) need to contact Brian Mahomet on Mobile: 0432 062 176 ASAP (prior to Thursday 30th June, 2016). This competition is for Club Teams of 6 pigeons (2 old cocks, 2 old Hens and 2 young birds). The club gaining the highest overall point-score will be awarded the SAHPA Trophy.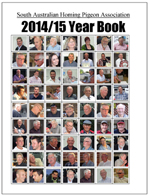 THE SAHPA YEARBOOK for 2014/15 has been distributed to the South Australian members and we have a limited number of extra copies for sale. The price is $10 per copy which includes the postage anywhere in Australia. The 44 pages contain our race results for the two years plus loft reports on some of our top flyers including Leo Duits, Gavin Harris, Ricky Williams, Ken Wallace (and Doyle), Tony O'Loughlin and Rolf Goodacre, Chris Mav, Curea and Langer, Nick Albanos, Ross Chapman, Adrian Stacey, Wayne Griffith, Denis and Lesley Cornish, Cawte and Field, Andrewartha and March, David Walker, Alan Harris, Underdown and Holmes, Phillip Jacobs, Saberton and Jeffries and also Geoff and Bridget Clare. The last article on Geoff Clare has some surprising facts regarding their loft and method of racing (widow hood). This publication would be particularly useful to new flyers with a lot of tips from these top flyers on feeding, keeping, medications and breeding. To purchase please complete this form >>>
| | | | |
| --- | --- | --- | --- |
| Sales to date: | Salisbury, SA | Wyong, NSW | Warrnambool, Vic |
| | Glen Osmond, SA | Morwell, Vic | Ferntree Gully, Vic |
| | Noosaville, Qld | Traralgon, Vic | Old Bar, NSW |
| | Turners Beach, Tas. | Figtree, NSW | Benalla, Vic (1) |
| | Cundeltown, NSW | Moonee Ponds, Vic | Virginia, SA |
| | Hornsby, NSW | Benalla, Vic (2) | Deer Park, Vic |
| | Bunbury, WA | Craigmore, SA | Bluewater Drive, Qld |
| | Mt. Eliza, Vic | | Colac, Vic |
Scan from the breeding book of the
famous Lot 60 (SA78 15393) >>>
SEARCH ALL SAHPA RESULTS! 2007, 08, 09, 10, 11, 12, 2013. Search ring number, owner, anything! Click on the Results button at left and then under the racepoints map on that page.