SAHPA NEWS
THE BILL WALFORD 10,000. Lyndhurst Derby 30th July 2016. Pay before the second race of the season and send bird ring numbers in by the 16th July. This allows you 10 races to train and condition your pigeons. Entries $100 per bird. For any enquiries or details click on the Bill Walford 10,000 advert on this page or contact Tony Perkins 0401818862. Details >>>
THE CLUBS PAGE now has all the SALDC Documents listed. PLEASE check out the "Clubs" page (button at left). Some of the pedigrees will be posted here ready for the on-line sale that will be held in July to raise funds for the Northern Group.
NEW REVISED. Ring transfer form now available. Please note the transfer is from the original owner to the new owner. Pay by bank transfer (other options still available). Form available on the Officials and Rules page.
COMING EVENTS: July 2016. Northern Group "Young Stock Bird Sale" to be conducted on line on Group1 Lofts. See advert at right.
SAHPA PRESENTATION

for Chairmen and Secretaries. More >>>
Also ring register form and late ring register form on the "Officials and Rules" page.
INFORMATION on Unit loading for 2016 >>>
BILL WALFORD $10,000. Date: Sat 30th July 2016. Racepoint: Lyndhurst YBC
Conditions: $100 per bird to be paid by the second race Sat June 4th , with nominated ring numbers to be submitted by Sat 16th July 2016. 1st Prize $10,000 with prize money distributed down to 20th , all dependent of course on the number of entries.
SPECIAL MEETING (see Forum at bottom of page). Here is a brochure on the truck >>>

Geraldy website >>> Brochure 1 >>> Brochure 2 >>> Brochure 3 >>>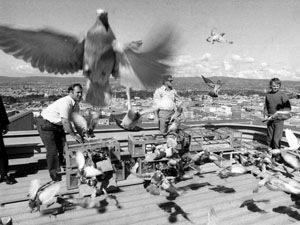 The picture at left has Allen Goodger and Bill Walford plus an unknown flyer releasing pigeons from a roof-top in Adelaide. Thanks to Mrs Goodger who has given this photo and other historical items to the SAHPA.
Scan from the breeding book of the
famous Lot 60 (SA78 15393) >>>
SEARCH ALL SAHPA RESULTS! 2007, 08, 09, 10, 11, 12, 2013. Search ring number, owner, anything! Click on the Results button at left and then under the racepoints map on that page.