SAHPA NEWS
SEASUE LOFTS now have a Facebook Page. Please take a look >>>>
HAVING TROUBLE finding good quality Kaspir peas? A reliable source has been found for 50 kg bags of clean, export quality peas. Ring 0421 465 341 for more information.
ANDREW MUIRHEAD has decided to retire from the sport. Andrew's record speaks for itself with 10 SAHPA wins, previous points winner and 5th Assoc points last year. This sale is for his young birds that were bred for 2016 and are young enough to be broken in. These young birds have never been outside the loft and this is a great opportunity for fanciers to break them in and fly Andrew's birds from their own loft. All birds have been vaccinated for PMV. Andrew's stock birds will be sold at a later date during the year. Sale date: Friday 19th February at SAHPA Hall, viewing from 6:30 pm, barbeque supplied.
MESSAGE from the Management Committee: please make sure that the dose you are giving for PMV vaccination is correct. Check that the gun you are using is actually putting out the correct dose.
More >>>


NEW INFORMATION on CRATE SIZE and CAPACITY for the new transporter. Please refer via the MINUTES button at left or for now >>> Document has also been archived on the OFFICIALS page with all the documents.

GERALDY progress photos, units are currently in paint booths and due for completion by end of January. All the pictures are via our gallery top right hand corner of this page. Or go to the SAHPA Facebook page.

Pigeon paramyxovirus disease (PMV) has been detected in South Australia in a pigeon loft in the Murraylands. The disease is regarded as endemic throughout Australia, although this is the first formally confirmed case in this State. more >>> Here is the Fact Sheet >>>


PIRSA
response to query from SAHPA Management Committee member Paul Springett, received 18/01/2016
Pigeon paramyxovirus (PMV-1) is now considered to be endemic in Australia (i.e. circulating freely in the pigeon population) and, although this is the first reported detection of the virus in South Australia, it is likely that the virus has entered South Australia in the past and gone unnoticed. This is in part due to the excellent job the pigeon industry has done at working with their members on risk management strategies (good biosecurity and vaccination).
The actions PIRSA has taken so far include:
1. Confirming the diagnosis of PMV-1 in a pigeon loft in South Australia.
2. Notifying the pigeon/poultry industry so they can adjust their management (if they haven't already done so) to protect their birds from PMV-1 (mainly through vaccination).
3. Notifying private veterinarians so they can advise their pigeon clients.
4. Liaising with the private veterinarian on giving advice to the affected loft.
As for individual cases of potential contact with affected birds, advice would need to be given on a case by case basis. The best place for concerned bird owners to get advice is from their private veterinarian. Importantly, pigeon owners should review their vaccination protocols, not enter shows or races if their birds are not fully immunized and not buy in birds of unknown health status.
PIRSA doesn't intend on taking any further action on PMV-1. The links sent out on the previous email are a good source of general information, including advice on best vaccination practice. For more specific advice, please encourage your members to contact their private veterinarian.
Please do not hesitate to contact me if you have any further questions. Kind regards, Emma
Emma Rooke (08) 8207 7942




COMING EVENTS:

Vitesse Club squeaker sale. Sunday 14th February, 2016. Sale will be held at the clubrooms - Harman Street, Hillcrest. Birds bred by top SAHPA flyers. Birds on view at 10 am and sale starts at 11 am. LUNCH provided.


COMING EVENTS:
July 2016.
Northern Group "Young Stock Bird Sale" to be conducted on line on Group1 Lofts. See advert at right.
2016 DRAFT PROGRAM
. Under "Points/Programs" at left.
Also
payment, insurance and crates guides
under "Minutes" at left.


'Protein compass'
may explain how pigeons find their way home more >>>
SPECIAL MEETING
(see Forum at bottom of page). Here is a brochure on the truck >>>
Optional extras that will be included: Hino 500 Series FD X1124 Long Air Proshift 6. Reversing Cameras plus 2 additional cameras that can be mounted in the Race Units. Chassis Extension. Levelling system – hydraulic
Geraldy website >>>
Brochure 1 >>>
Brochure 2 >>>
Brochure 3 >>>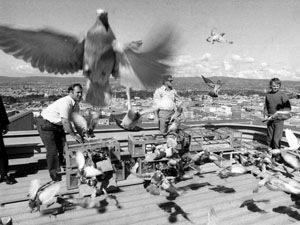 The picture at left has Allen Goodger and Bill Walford plus an unknown flyer releasing pigeons from a roof-top in Adelaide. Thanks to Mrs Goodger who has given this photo and other historical items to the SAHPA.
Scan from the breeding book of the
famous Lot 60 (SA78 15393) >>>
FUTURE DIRECTIONS PRESENTATION DOCUMENTS
The Future Directions presentation documents have now been released for publication on our website. You can view it either as a power point or a pdf format.
Here is the pdf formatted document >>>
This document has also been archived on the OFFICIALS page.
Here is the document in a power point format >>>
SEARCH ALL SAHPA RESULTS! 2007, 08, 09, 10, 11, 12, 2013. Search ring number, owner, anything! Click on the Results button at left and then under the racepoints map on that page.