<!iframe width="245" height="138" src="https://www.youtube.com/embed/0Bm-POIhvg0" frameborder="0" allow="autoplay; encrypted-media" allowfullscreen> <!iframe width="245" height="138" src="https://www.youtube.com/embed/Jl_pZA_qS6o" frameborder="0" allow="autoplay; encrypted-media" allowfullscreen> <!iframe width="245" height="138" src="https://www.youtube.com/embed/H3j6T-zUdSE" frameborder="2" allow="autoplay; encrypted-media" allowfullscreen> <!a href="http://www.gc50000.com/" target="_blank"> <!img height="150" src="images/gold coast.jpg" style="margin: 12px 6px; border-style: solid; border-width: 2px;" width="245" />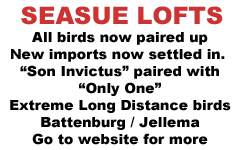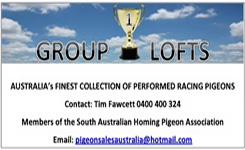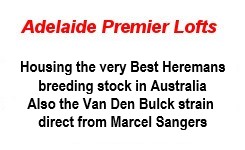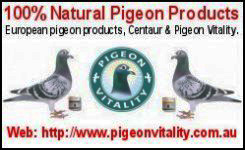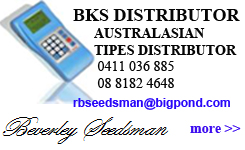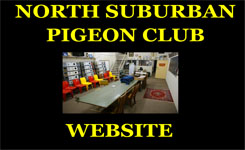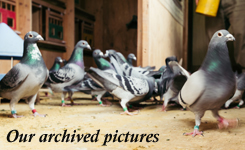 SA PRIVATE
PIGEON SALES >>>
MINUTES
now available via quick link at top or menu at left.
2021 RACE CARD -
Here is our race programme (subject to alteration). Please check phone numbers listed and notify General Secretary via email address.
>>>
Here is the Trophy page for your perusal
>>>
RACE CARD FOR 2021:
We will be putting the race card together very soon. The trophies and donors page needs to be filled so if you would like to donate a trophy please contact David Thalbourne on 0447 401 371.
VACANCY:
The SAHPA position of General Secretary is currently vacant and is hereby advertised seeking expressions of interest and applications for the 2021 Season. Information re duties can be sourced from David Walker 0450 107 545, Tom Tirrell 0414 272 682 or John Harper 0413 171 697 (retiring General Secretary). Computer skill experience e.g. Word and and Excel would be an advantage. Due to urgency the closing date for applications is Friday the 23rd of April 2021 and should be posted to SAHPA General Secretary - P.O. Box 755 Melrose Park 5039, SA. Email applications can be made to sahpa.secretary@gmail.com also. This position is paid a remuneration. David Thalbourne (Chairman).

REMINDER from The Treasurer:
The BSB is 065 518 and account 10038108. Please include a clear reference for your payment. The Treasurer's email is sahpa.treasurer2015@gmail.com


NEW - Search this file for ALL RESULTS for 2020. Simply use "control f" to get the search box and then enter what you want to search for. Search for your name or a pigeon number for example.

Here it is >>>

And here is the

2019 results >>>




SEARCH ALL SAHPA RESULTS! 2007, 08, 09, 10, 11, 12, 2013. Search ring number, owner, anything! Click on the Results button at left and then under the racepoints map on that page.